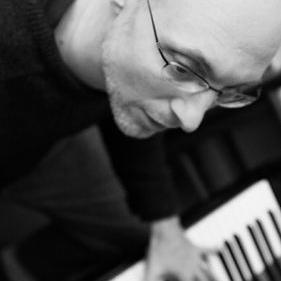 Larkenlyre
featuring Matthew Labarge
Omnia, the newest Larkenlyre album, is a deeply atmospheric work, marrying harmonic interests of slow 20th century romantic symphonic writing with modern ambient music and a bit of art rock of the early 70s. In Matt's words, this recording "features spectacular guitar work from Chrys Bocast, whose Through the Airlock album is a primary influence." The album was an integral combination of Matt and Chrys' approaches, making it a true collaborative effort. Several tracks from Omnia are currently in regular rotation on Sirius Satellite radio.
Chris made a guest appearance on the previous Larkenlyre record, Music of the Extraordinary Voyages, contributing on five tracks for the album.
Matthew Labarge has released four solo piano albums as well as two electronic albums under the moniker Larkenlyre. He brings a sophisticated musical sensibility to bear on the works we have collaborated on. Based in Virginia, he also plays piano in a honky-tonk band, and accordion in a few different dance bands. A very different side of his music can be heard in the award-winning iPad app Numbers League.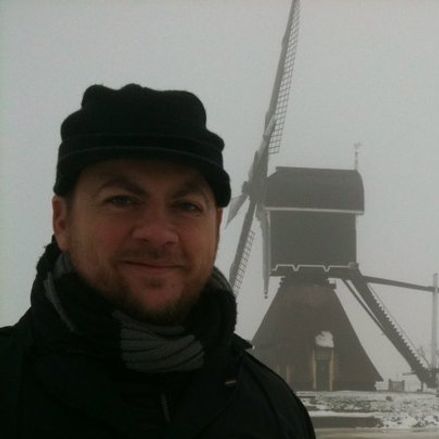 Grand Transients
featuring Michael Ver Steegt
The organic instrumentals of Grand Transients meld down-tempo electronic beats, textured guitars, and earthy brass into modern, moody atmospheres. Using this musical vocabulary, Spark the Future forges a singular identity for this collaboration founded on the long-standing musical friendship between synthesist-sound designer Michael Ver Steegt and guitarist-producer Chrys Bocast, the principal songwriters. Chrys and Michael were joined for this recording by Matt Covert, a talented saxophonist who has performed with Chrys many times. Fans of Chrys' previous work (Through the Airlock, Stratagem, Intrinsic) will recognize her signature e-bow melodies and rich tones, contrasted with Michael's nuanced piano and synthesizer timbres, all energized by Matt's fluid horn lines. The CD features striking artwork by internationally recognized collage artist John Hundt, who has provided distinctive visuals for all of Chrys' releases. With a few sonic nods to shared influences and novel tonalities, Grand Transients set an intriguing new course for visionary music…
Michael Ver Steegt epitomizes the grand transient lifestyle while traveling around the world as live sound engineer for such acts as Groundation, Spearhead, SOJA, Dr. Dog, Sick Puppies, Trevor Hall, Debo Band, and Rising Tide. When he's not on the road, he lives in the San Francisco Bay Area where he enjoys sound design and producing music with artists like Michael Franti and Trevor Young of SOJA.
Echoes Top 25 for January/February 2017 (#5):  "It's a really fantastic album." John Diliberto, host and executive producer of Echoes, a nightly music soundscape carried on Public Radio International, heard on public radio stations across the country.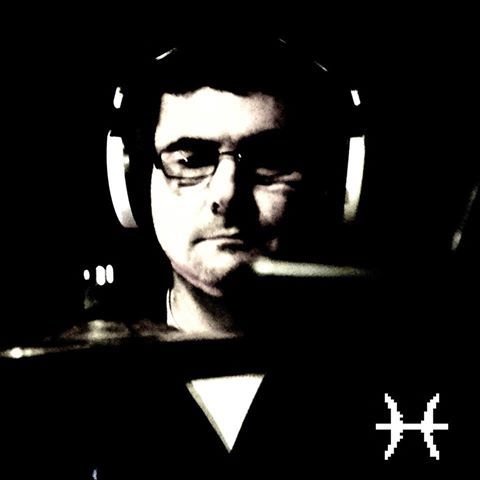 Chrys Bocast with MJCATALIN
FEATURING Catalin Pintea (AKA MJCatalin)
Artists and lovers will always disregard borders, and Stratagem, from American ambient producer and guitarist Chrys Bocast and Romanian percussionist and sound designer Catalin Pintea (MJCatalin), is an intriguing demonstration of the possibilities available to today's musicians willing to exploit the information revolution. Catalin initiated contact with Chrys in 2006 through iSound.com, one of many musician-oriented sites on the web, expressing interest in her solo work. After listening to Catalin's music, Chrys suggested collaborating. The results were so promising in their approach to texture and space that a professional release was deemed necessary. For the next year or two, tracks were traded back and forth from Bucharest, Romania, where Catalin lives, to the high country of Colorado, where Chrys was busy with music production work. Eventually they crafted a masterwork of sonic energy and creativity, combining ambient guitar with Euro-beats in a unique collection of compelling instrumentals. As both Chrys and Catalin are accomplished players as well as skilled recording artists, Stratagem consistently evokes an intuitive sensibility that can often be elusive in electronic music, and does so in a memorable and melodic way. All parts are performed by the artists, with the exception of "Detector", where guest star Dave Shul (formerly guitarist for San Francisco's Michael Franti and Spearhead, and now playing with all sorts of top acts in the San Francisco Bay Area) provides some driving guitar in his own signature style.