Touring with the Mission was a very exciting and formative experience for me. A year after I played with them, they were filming video in Los Angeles (a big-budget item in those days), and I went to hang out with them. You can see me (version 1.0) about 5 minutes in on the tour bus. A superlative re-mix of the tune as well - very atmospheric!
At War With The Gods tells the story of the first 25 years of The Mission, from the speed-fuelled beginnings in Leeds to the 2011 tour which saw the band reform and tread the boards of venues across the world once more.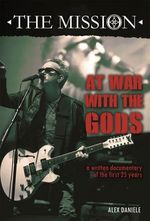 Amazing art from the creator of my album covers, who is also my oldest friend. I have known John since we were both 6 years old, seriously. He lives in Washington state now and generally sells pieces for considerable dosh – I could never afford him now!

 
I give these plug-ins my highest endorsement - they are incredibly musical and designed to be used in the digital age! I use them all over my recordings, and are my go-to rather than the Lexicons and other verbs I have.
I am an official endorser of Monte Allums specialty electronics! I have converted my Boss CS-3 to something amazing using his simple-to-install and totally kick-ass mods. If you want to separate yourself from the pack, but can't deny the durability and functionality of your old pedals, you owe it to yourself to check out Monte's mods. If you can do basic soldering, you can do these mods. They are totally affordable, and following the clear instructions, you can have a new-sounding pedal in an afternoon!